The Red Couch
This is our Credits Page.  If you're one of those people who stays in the cinema after everybody else has left and watches the credits all the way to the end then you know that a good film takes a small army of people to make.  Sure, the Director, Producer and star cast are always right up there at the top of the list, but if you keep watching you'll find the name of the Second Assistant Key Grip and the hundreds and hundreds of other people involved behind the scenes that make it all happen.  When you see all those names of skilled individuals involved, it's easier to understand why it costs so many millions to make it.
Our wines may not cost millions to produce, but there sure are a lot of people involved in making them.  The Winemaker and the Viticulturist are usually given all the credit, they're the big headline stars of the film, but there is also a myriad of other people involved throughout the entire process… from pruning the vines in the winter all the way through to blending and bottling the finished wine almost two years later…
It's the dedication, hard work and creativity of these awesome individuals that make our wines as good as they are.  With this page we say, "thank you".
OWNER & WINEMAKER
Patrick Stowe
Born and raised in the Napa Valley, California, Patrick made his first wine at age 19 and has been getting better at it ever since.  He graduated from California Polytechnic State University (San Luis Obispo) in 1984 with a degree in Biochemistry and Microbiology.
During his 15+ year career as a scientist in the biotechnology field in the San Francisco Bay area, Patrick made wine annually, first with a group of six award-winning home winemakers and then with professional winemakers in the Napa Valley.
Moving to New Zealand and founding Rimu Grove in 1995, Patrick was able to apply his knowledge of microbiology and biochemistry to winemaking at his own winery. Still learning and experimenting, improving and perfecting his technique almost 20 years later, Patrick is the steady hand at the helm of Rimu Grove.
VINEYARD MANAGER
Lukas Sivak
Born in the United States, Lukas' family immigrated to New Zealand when he was a little kid. He grew up around the Nelson region before heading off overseas at the age of 16 to go to school in Canada. After graduating from Lester B. Pearson, United World College of the Pacific in 2003 he took off travelling, doing various jobs while living in various places around the world for the next 7 or so years.
Lukas started working at Rimu Grove off and on as an occasional casual seasonal worker in between his travels around 2007.  So when he finally decided to "settle down" in 2010 he came back to Rimu Grove and started full time as vineyard supervisor and eventually took over as manager of the vineyard and winery operations. As well as babysitting our vines year round and training and directing our seasonal crews, Lukas is also our one-man art department, writing, designing and drawing all the stuff for our website and wine labels.
CELLAR DOOR STAFF
Robin Peck
 VINEYARD CREDITS
so far in the 2017 - 2018 season:
P R U N I N G
Silvia
Giada
Vincenzo
Ivan
W I R E   D R O P P I N G
Ivan
S H O O T   T H I N N I N G
Ivan
L E A F   P L U C K I N G   &   C R O P   T H I N N I N G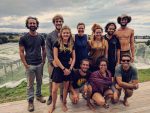 Charly
Jacob
Giada
Davide
Pia
Marco
Veronica
Paula
Krischen
Sophie
Ben
Ivan
N E T S
Davide
Jacob
H A R V E S T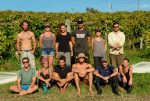 Charly
Anne
Ivan
Giada
Davide
Laura
Leo
Nikola
Lukas
Kristyna
Magda
N E T S
Charly